STAY AT HOTEL R.K. RESIDENCY
We always look forward to making our guests feel at home and providing them with every possible support to make their journey to the top an enjoyable one. We are ranked among the best budget hotels in Ghaziabad. Our room categorizations are Deluxe & Super Deluxe. Discover your home away from home & true relaxation when you reserve one of the best budget hotel rooms at the R.K. Residency in the Ghaziabad District.
ROOM TYPES
Deluxe Rooms
250 sq ft | max. guests: 3 adults
Be assured of the best comfort and luxury by staying in one of our 19 Deluxe Rooms which occupy the ground 1st, 2nd, 3rd floors. The spacious room size and reasonable price make your stay even more enjoyable and unforgettable. When you choose one of our deluxe rooms you can spread out on a king bed and the can have the extra mattress and perks like 24-hour room service and satellite TV tempt you to stay in your elegant room to rest up before a busy day in Delhi NCR. Free Wi-Fi & Additional amenities include a seating area.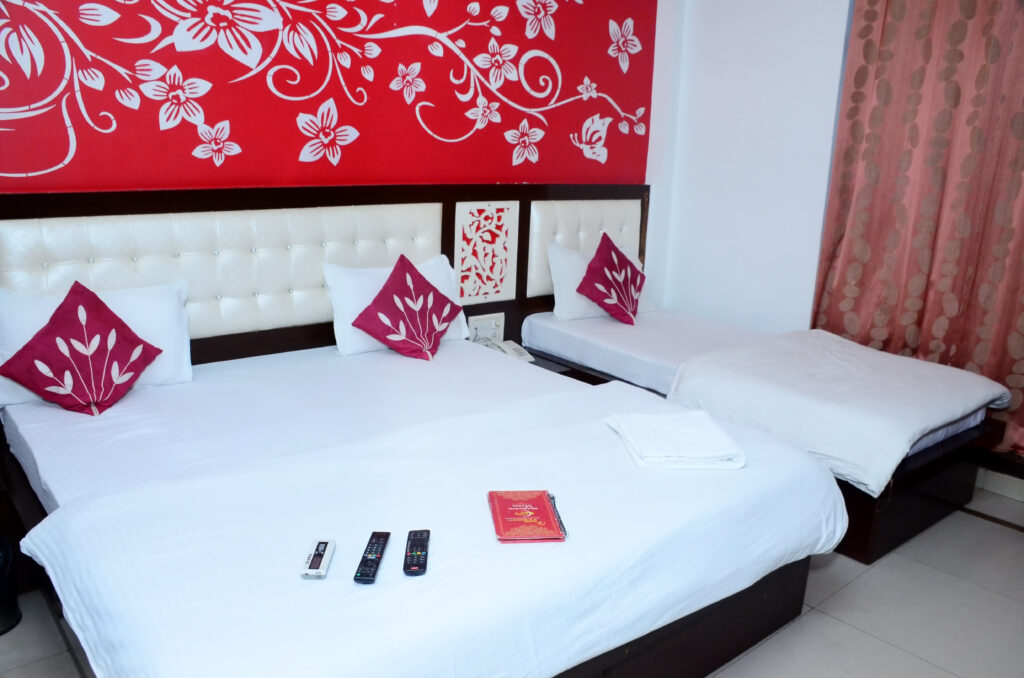 Super Deluxe Room
400 sq ft | max. guests: 4 adults
The Super Deluxe of Hotel R.K. Residency has all the taste of an unforgettable visit We have 6 spacious rooms, one on 1 & 2nd floor & 4 on the 3rd floor. We adapt the changes according to our customer needs & satisfaction & delivers the same immediately. Each Super Deluxe has a big space, every time around 7-10 people can enjoy the moments together, we have smart led TVs so you can always be connected to the outside world.